Celebrating Women in Technology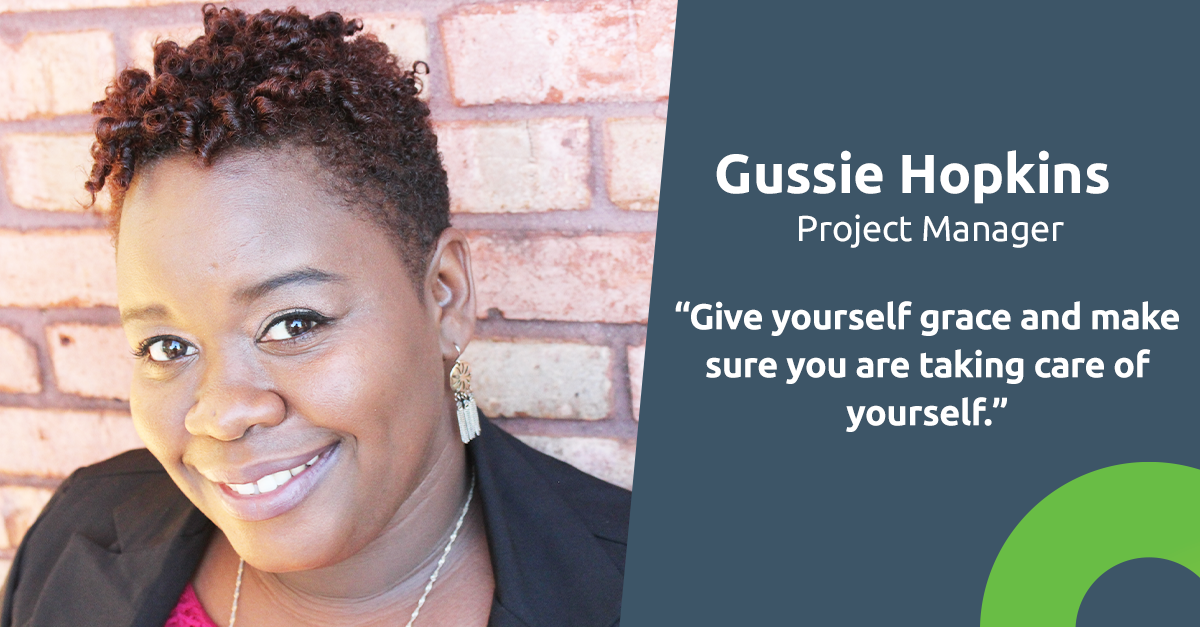 Gussie Hopkins
Project Manager
In honor of Women's History Month, we would like to acknowledge a few of the amazing women at Stratix across various departments and all that they do. Without these women, our company just would not be the same. We took some time to speak with them to understand how they got started in their field and how their past experiences molded them into strong females in the industry.
Today's interview is with Gussie Hopkins, a Project Manager here at Stratix. She's been with Stratix for a year and half and uses her past years of business experience to deliver creative solutions for customers. Gussie prides herself on being a dynamic team member with a willingness to go above and beyond.
What is your role at Stratix and how long have you been here?
My role at Stratix is Project Manager and I've been here a little bit over a year and a half now. I have grown during that time to jump in and assist with other roles in other departments while still in my role of project management just through interactions. I am big on troubleshooting, peeling back the onion and trying to figure out where we are having breakdowns and areas of improvement.
What do you like about working at Stratix?
I love working for Stratix because I am coach and challenged by our leadership team so that I can grow. They are investing time and resources into my growth and development. My director is looking beyond just Gussie as a PM. She sees Gussie as a person and my desires for my career.
How did you start your career and what interested you in your field?
Honestly, I didn't even know what that word meant earlier on in my career. I started off as a technician, where I did underground and aerial work that I loved. Then, the market changed, and a lot of cuts happened. I was living in Chicago at the time and my sister encouraged me to come to Georgia. I was originally against it because the South did not seem like the place for me. I had two young men and a lot of apprehension. Fortunately, I did my research and came down here. The first job I had was a coordinator position and that morphed into a project management role. It was honestly by chance that I started in that role. From there they recognized my skill set and I received promotions after that until I ended up just going to get certified.
What did you want to be when you grew up and why?
I really wanted to be a vet! I love animals, that was all I could talk about. Then I realized I had allergies, so becoming a vet was out of the question for me. I also recognized that people don't realize that it is still a sales job in its own way. If you have your own independent location, you're trying to get people to come in and I realized that wasn't for me. So, I switched gears and then it turns out I'm still technically selling customers on more services or more interactions and relationships with us. I essentially still ended up in that same type of sales field.
Did you find that any careers were closed off to you because you are a woman?
I still feel like I struggle today in this role because sometimes I am ignored in the room. I feel that I have to prove myself 10 times more to show that I am extremely capable of doing my job. As a woman in this field, I have experienced running a meeting and having men talk past me as if I am not a decision maker. I've definitely struggled in this field because it tends to be more Caucasian male dominated. People have discounted me before I have even opened my mouth. Something that I learned at a young age was the phrase "kill them with kindness." It's really hard to be angry and upset with somebody who has good positive vibes. If they are still rude to you after you are being kind to them, then they will probably feel bad afterwards.
Who was your role model growing and what words of wisdom did they give you?
I had a great female role model, my mother. She has been instrumental in my growth as a human being. She taught me to speak my desires, walk up right without compromise and do it with a smile! Everything else will fall as it is ordered to. If it doesn't, at least you didn't compromise your values or beliefs so, you'll be just fine.
Which of the Stratix Core Values do you identify with the most and why?
Choose to drive change!!!! This value is my favorite because I have no problem challenging our team to change the status quo if it no longer works for everyone collectively.
Advice to women starting their career
I would say give yourself grace. God gives us grace so why is it that we are so hard on ourselves? The energy that you put out makes a huge difference. I found that if you just start off giving yourself grace and taking care of yourself, then it will make your life easier. I started off thinking that I was just going to push through, and it will all be okay, but I wasn't taking care of myself and it ended up costing me in the long run. Just give yourself grace and definitely take care of yourself. All of the other things will line up because you're going to do your due diligence as you go.