Celebrating Our Stratix Team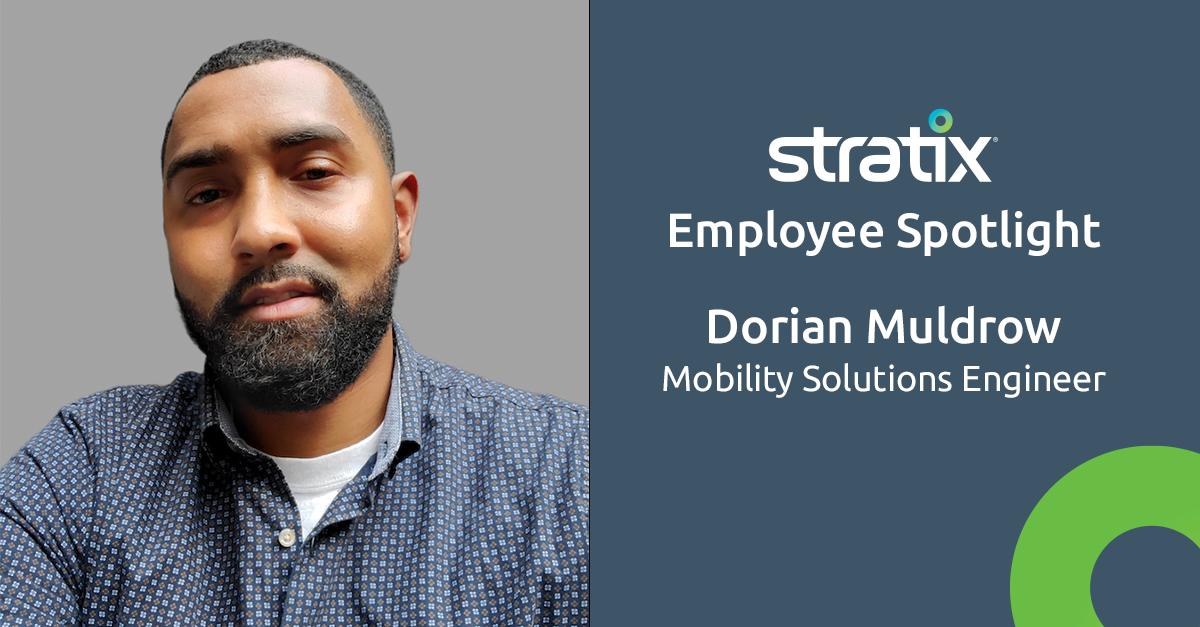 Dorian Muldrow
Mobility Solutions Engineer
Here at Stratix, we love to give credit where credit is due. We are extremely lucky to have employees who go above and beyond, and each month we choose an employee to spotlight and acknowledge their work and collaboration as a teammate. This month, we're spotlighting Dorian Muldrow. Over the past five years, Dorian has worked his way up to become a Mobility Solutions Engineer. His hard work and determination are just a few reasons why Dorian is such an amazing teammate.
How long have you been at Stratix, and what does your role entail?
I have been with Stratix for 5 years. My role entails engineering and developing processes to support our customers. We develop staging documentation that supports staging and service depending on the client.
What do you like about working at Stratix?
I like that Stratix is constantly evolving. We are consistently onboarding new projects with different requirements to support our customers. Each project is usually different from the last. I could get my hands on a different set of equipment every day.
What got you interested in Mobility Engineering, and what do you love about your job?
I've been engineering for a while now, but I love being able to develop new solutions and processes. It gives me a chance to work on different project builds with different device types and get my hands dirty.
What is the best career lesson you've learned so far?
The biggest career lesson I have learned is to ask questions. You know you hear it all the time, that there's no such thing as a dumb question, but it's just really taking that space and talking it through. I would also say just working with peers has taught me a lot. I've learned so much just by working with the right intelligent people.
Which of the Stratix Core Values do you identify with the most and why?
Get Our Uniform Dirty is the Core Value that I identify with most. I enjoy discovering issues and developing a resolution. I find it interesting to be able to identify and troubleshoot an issue and then pass along a resolution that can be used in the future. When you develop a resolution and pass it along, you can save your teammates so much time in the long run.
What do you like to do when you aren't working?
I enjoy trading, travel, Netflix, and spending time with family and friends.
If you could switch jobs or departments with anyone else within Stratix whose job would you choose?
I was previously in automation, and I recently received a promotion to an MSE, which was actually the job that I would have chosen. I am very lucky to have my favorite role at Stratix.