African American Leaders of Stratix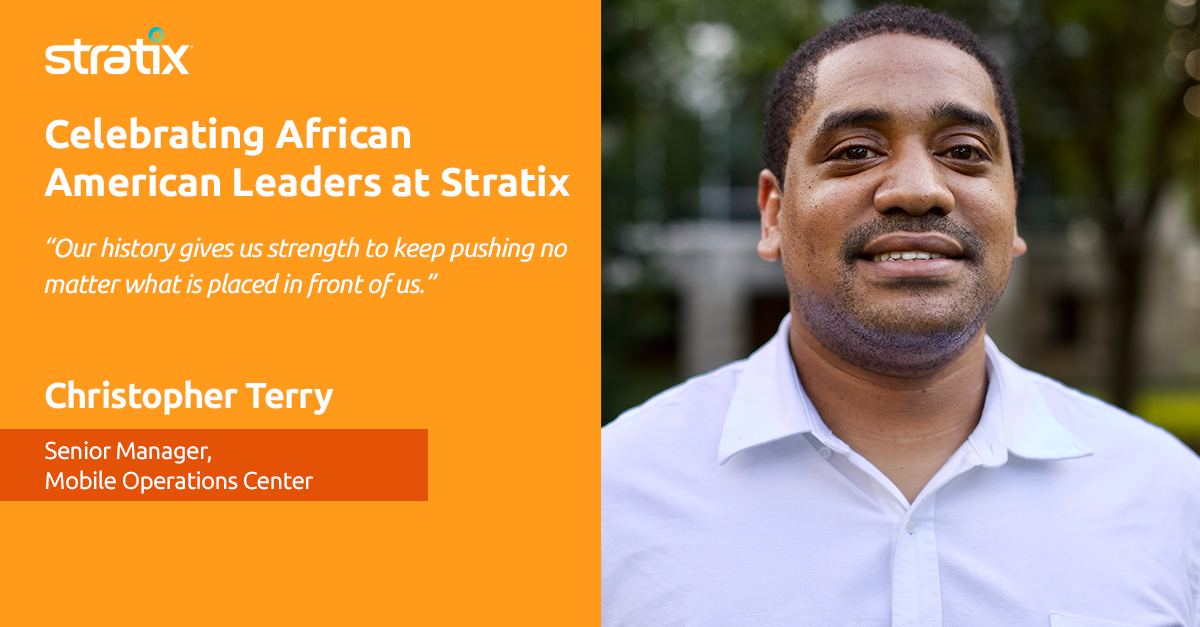 February is Black History Month, an annual celebration of achievements by African Americans and a time for appreciating their important roles in U.S. history. To help us all understand a little more about what it is to be Black in America, we interviewed African American leaders at Stratix to ask about their work and to have them share stories of their experiences.
Christopher

Terry
Senior Mobile Operations Manager
Meet Christopher Terry, Senior Manager of the Mobile Operation Center. Christopher has been a teammate at Stratix for six years and currently manages a large team of mobile help desk professionals to resolve a wide range of issues for customers. With his drive, motivation, and love of technology, Christopher has worked his way up to a senior position. In this Q&A, we get to learn a little more about Christopher's role and what Black History Month means to him.
How long have you been at Stratix, and what does your role entail?
I have been at Stratix for six years. I started as a contractor for the MOC, and my role was a Technical Support Specialist. I worked my way through the ranks and became a Senior Manager of the Mobile Operations Center.

What do you like about working at Stratix?
I have a never-ending love for technology. Every day, Stratix shows the world that we are the best in the industry when it comes to nonstop mobility and our services. I take pride in working for Stratix and also being a leader. Our CEO leads by example every day and creates great energy when he walks into the room.
What does Black History Month mean to you?
Black History Month is a time out of the year that highlights and pays respects to the great black leaders and innovators that came before me. Even though Black History Month is only 28 days, to me and my family, it is 365 all year round.
Can you tell us about any African American role models who inspired you?
Great African American role models who inspired me are (no particular order):
Michael Jordan

Kobe Bryant

Jimi Hendrix

Michael Jackson

Booker T. Washington

Will Smith

Marcus Garvey

Malcom X

Martin Luther King Jr.

Stokely Carmichael

Maya Angelou

James Baldwin

Nipsey Hussle

Muhammad Ali

Alfredo Bowman (Dr. Sebi)

Jean-Michel Basquiat
What barriers have you had to overcome to reach this point in your career?
There are several barriers that I had to overcome in my career. Being a military veteran is something I will always be proud of. The toughest part about it is that I served this country honorably, but still get treated poorly because of the color of my skin. Racist leadership brought unfair treatment, denied opportunities, but in the end, made me stronger to never settle for less.
"Success is to be measured not so much by the position that one has reached in life as by the obstacles which he has overcome while trying to succeed." – Booker T. Washington
What is the value in sharing the stories of African American history?
The value in sharing our history is important because it has been tarnished and destroyed. Our history gives us strength to keep pushing no matter what is placed in front of us. I think it is more important that we educate our youth with our rich history before the world gets to them.
Which of the Stratix Core Values do you identify the most with and why?
Choose to Drive Change – I love this core value the most because improving morale and process improvement is a passion of mine. If we can make people happy when they come to work and processes are less overwhelming, we can be more efficient.
What do you like to do when you aren't working?
I enjoy being a father and husband. In my spare time, I like filming and editing videos, listening to music, and watching stand-ups.