Celebrating Our Stratix Team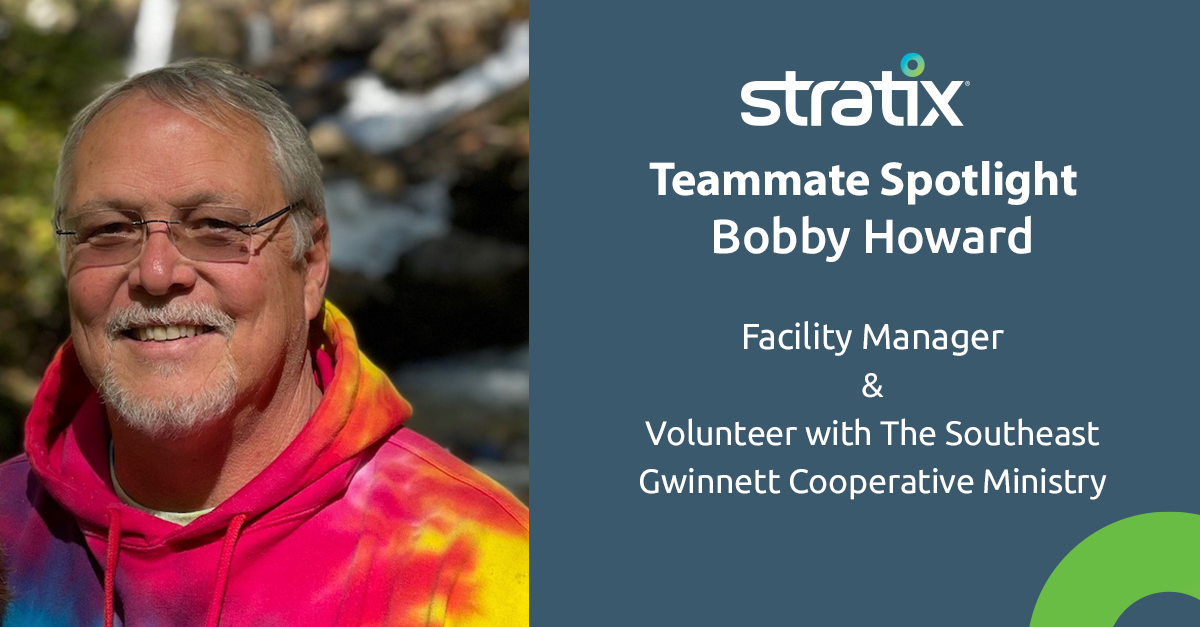 Bobby Howard
Facility Manager
This month's spotlight goes to Bobby Howard, our Facility Manager at Stratix. Bobby's dedication to Stratix goes unmatched, but he requested that his spotlight be a call to action for everybody to give back to their communities this holiday season. He is a volunteer at The Southeast Gwinnett Cooperative Ministry, and the organization's goal is to provide food and service resources to families in need.
How long have you been at Stratix and what does your role entail ?
I started as a contractor in March of 2005. I was hired by Katie Rankin and became a full-time teammate in 2017. I serve as the Facility Manager.
Tell me a little bit about the charity you work with?
The Southeast Gwinnett Co-Op is a food and services resource. The goal of the Southeast Gwinnett Cooperative Ministry is to walk alongside local households that are struggling financially by offering assistance aimed at supporting their efforts to afford the basics of life.
​The primary function of the Co-Op is to provide food and or non-food pantry support. Households that utilize the Co-Op as a food resource can free up money that can be applied to other household needs. A family of four has the opportunity to receive approximately $1,800 in pantry supplies yearly.
A secondary potential benefit of the Co-Op is financial assistance for utility and prescription drug expenses. This limited benefit is intended to provide additional support to proactive households that utilize the Co-Op on a steady basis as a food source for their family. A steady basis is defined as using the Co-Op for food and/or non-food pantry assistance a minimum of six times in the past 12-month period (from current visit date).
What is the Mission of the Southeast Gwinnett Cooperative Ministry?
The mission of the Southeast Gwinnett Cooperative Ministry is to honor and uphold the Lordship of Jesus Christ by reaching out, in His name, to our neighbors in need. To the end that our clients will find encouragement, love, and hope and that the Kingdom of God will be manifest on Earth.
What inspired you to get involved in this charity and how long have you been working with this charity?
The need in our community was much greater than I thought. I never thought much about how "food insecurity" affected people on a daily basis. My work with the Southeast Gwinnett Co-Op spans the last 20 years.
What is your most memorable experience volunteering for this charity?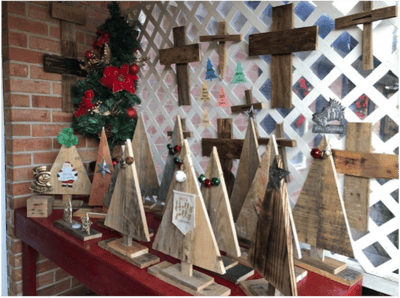 There are too many to pick just one. However, in 2019 my wife and I decided to do something different for Christmas. So, in November, I began making small wood crafts from old, recycled pallets that I would get from Stratix. We put these crafts out on our front porch and asked for canned goods as donations for a craft. It started as 10 items and take your pick of a craft item. In 2019 we collected 1,500 items for the Co-Op for the month of December. In 2020 it grew to 3,000 items collected, and a lawyer friend joined in at his office and collected another 1,500 items. We hope 2021 is even better.
How can your teammates make donations or get involved?
Simply bring can goods and non-perishable items to work, and I will make sure it is delivered to the Co-Op.
Which of the Stratix Core Values do you identify the most with and why?
"Get Our Uniform Dirty" is the value I identify with most. Pointing at a problem is insufficient. We don't just report the score of the game. We are also on the field helping the team win. I believe you must be "in the game" and contribute on a daily basis and not just show up
What has serving your community taught you?
It has taught me everything. Nobody can do "everything," but "everybody" can do something for someone else. I would encourage everyone to find that "something" you can do and discover what may seem "small' in your eyes can be "huge" in the eyes of the person you helped…